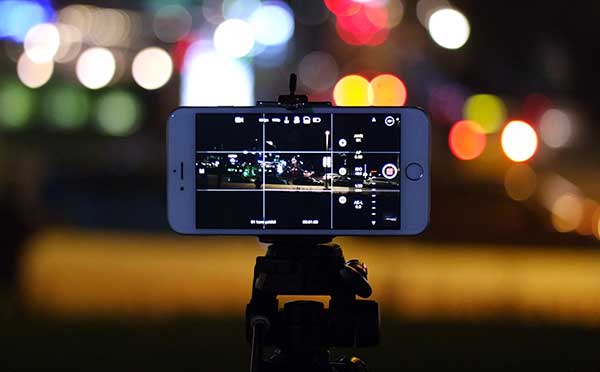 Not so many years ago there were no apps for this at all. In fact you had to 'animate blind', or use some expensive kit to help you monitor what you were doing. But now if you search on Google Play for stop motion, you will get at least 20 results, and at least the same again in the Apple App store, including time-lapse apps. Its becoming really popular, and anyone can do it!
These apps are prone to change however, the price changes and also what they offer changes. What you need from any stop motion app is 'onion skinning' (which allows you to see a shadow of the previous frame so that you can check how far you have moved your animated object), delete a frame from the timeline (incase your hand got in the way), change the playback speed, and to be able to work in HD without a watermark or promotional ending. Unfortunately its that last bit that you generally have to pay for, but apps are cheap so its not that bad, and there are some good free apps that let you work in HD. One more thing to note, stop motion phone apps are a bit of fun. Its not a professional solution, although you can get some good results, professional software and hardware will give you much more control and better results. So download and app and have some fun, thats what they are for.
If you want to know more about what Stop Motion Animation is and how to do it have a look at my "Beginners Guide to Stop Motion Animation" category where you can find everything you need to get you started. In this post you'll find out about the smart phone apps that will make it really easy and fun to make stop motion animation. I won't be covering them all, just the most popular ones. I'll explore 5 cross platform apps, 4 apple only apps and 2 android only apps. Some of these apps also do time-lapse too and since the technology is the same, it's unsurprising that lots of apps will do both. At the end of this post I'll summarise my recommendations for which apps are best, and there is a table to help you make a quick comparison.
By the way, none of these are affiliate links, I don't benefit from telling you about them, I'm just offering you the fruits of my own research. Just in case you wanted to know! There are actually animation kits and model making for beginners stuff you can buy that go well with these apps, so have a look at those posts.
5 FREE STOP MOTION APPS FOR BOTH ANDROID AND APPLE
These 5 apps all have either a free lite version, and a paid full version with more functionality, or they are free but with in app purchases for added functionality. However all of them will allow you to try out stop motion for free, so that you can decide whether or when to upgrade to a paid version. To be honest I think the paid versions are good value, so if you find it fun, its worth the upgrade.
1. Stop Motion Studio – free with In-App upgrades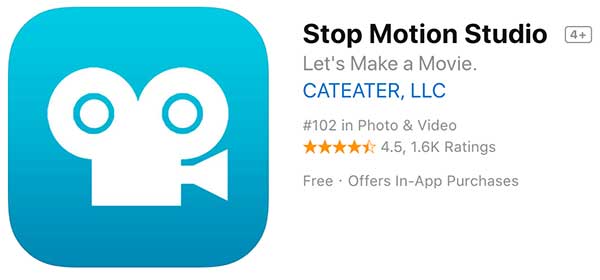 This is at the top of most search results, it's branded as "the world's easiest app to get you into stop motion moviemaking today!", it is very intuitive to use, and does exactly what it says it does. This is the app that I use all the time, and its the one I use in my beginners guide to stop motion video too.
The Free app has limitations but it has all the standard features that you need to get started, and its nice that you can work in HD without a watermark on your final video. Here's what you get for free:
Onion skinning
Change frame speed
Variable frame shape
SD and HD
cut, delete, copy, past,
overlay, grid, frame-in-frame
record voice
timelapse (timer for taking frames)
In app purchases offer more functionality, and compared to other app upgrades it's really good value:
Sound Effects
Import Images
Themes
Green Screen
Paint
Movie Effects
Remote Camera
Rotoscoping
4K Ultra HD
Full Feature Pack is only £3.99
Stop Motion Studio is the most popular stop-motion app out there. It's easy to use, with help tips to show you what does what.
2. Zing StikBot Studio – Free
This is actually a really good app, and its free. Its rare because you can save in HD quality, add sound and edit shots together, all from a free app. I highly recommend this app, because it can get kids into making films, not just making stop motion. This is the free branded app for the StikBot toys. These figures have suction caps on their feet and arms and have articulated limbs. They have developed a whole community of fans and put fan made videos on their site. There is also a YouTube channel dedicated to StickBot films called Stikbot Central on YouTube. This is a great place for fans to share their work and get ideas for more things to try. By sharing and showing the videos made with the toys they have built up a dedicated following, and by being part of a community kids have loads more fun sharing the videos they have made with others doing the same. Having an audience is a great way to encourage a desire to improve in what you do.
As well as the expected onion skinning, basic editing, and altering playback speed, the main features are:
Export HD movies
Green screen capability, with backdrop designs to add in
Record your own voice-over on the video
Multiple Audio sounds (music, sound effects, voice recording)
A library of sound effects
Add funny cartoon stickers to your Stikbots.
Tutorial videos to help you expand your movie-making skills
What's nice is the emphasis on sound, editing and green-screen to add in your own backgrounds, the aim of this app is for people to make movies to share. In fact you can't even save your movie until you have added sound to it. Obviously it can be used to do any kind of stop motion, you don't have to just animate Stick Bot toys, but if you do there is a huge community you can share it with! You are encouraged to share your video with #Stikbot
There are also lots of how to videos to help you animate and make movies:
The following 2 apps are both from Kudlian Software Ltd – I Can Animate and Animate It and they are essentially the same app with some rebranding, and this isn't such a bad thing because they are aimed at different audiences.
3. I Can Animate – Free Lite version and paid for Premium version
I Can Animate has a free lite version and a premium version. Let's start with the light version. It has all the features you'd expect and need to get you started with some stop motion, (onion skinning, some basic editing), as well as the following:
Adjust exposure, white balance and focus automatically or manually lock the settings.
Copy and paste sequences and reorder frames
Connect a bluetooth keyboard and capture frames without returning to, or tapping the device (iOS7+).
Help guide included, informative help manual
Unfortunately the Lite version has a watermark on the end product and may contain an embedded intro sequence, also you can't change the playback speed which is not good. But you can pay for a Full version, $2.99 for the apple premium version and strangely £4.69 for the Android Full version. Here is what you get for the extra cost:
No limit on the number of frames you can capture.
No limit on time-lapse duration or playback speeds.
Create unlimited number of projects.
Export animations in full HD (720 & 1080)
Watermark and intro trailer are removed from exports.
4. Animate It! – Free Lite version and paid for Premium version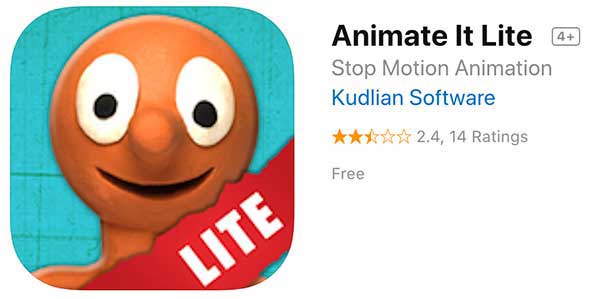 So its basically the same app as I Can Animate (above), but branded to Aardman. There is almost no difference between these apps. However, if you have kids and they like Aardman films (Wallace and Gromit, Shaun the Sheep) they will love this app. The main benefit is that Aardman have loads of resources and help on their website "Animate It!". Here you can find competitions, gallery and lots of how to resources to get you started and keep you going.
As well as the basics that you would expect (onion skinning, some basic editing) the additional main features are:
Change playback speed
Control camera settings
As with I Can Animate animations made using Animate It! Lite will contain a watermark and embedded intro sequence during export, although this time you can change the playback speed, instead you have the restriction of only being able to capture 240 frames, again, not great. The full version on Apple ($2.99), or buying in app purchases in Google Play will give you more features:
No limit on the number of frames you can capture
No limit on time-lapse duration
No restriction on the playback speed
Create an unlimited number of projects
Export animations in full HD (720 & 1080)
Animations made using the full version of Animate will not contain a watermark or embedded intro sequence

Aardman have made some great resources for children on how to use this app, and how to animate, so its worth using their resources to help.
5. Lapse It • Time Lapse & Stop Motion Camera
Lapse It is advertised as a time-lapse app, but its good for stop motion too. Many of its features are premium (need to be bought), but if you need to shoot a good high-quality time-lapse, it might be worth it. It claims to be the only app on Google Play that really works rendering the videos in the Android proper format. The free version only allows you to work in SD and adds a promotional shot to the end of your film. If you want to try out some time-lapse and mix it with some Pixilation techniques this might be a good app to get. However, I find that you can't save to the phone gallery, you can only share online, so if you are shooting some time-lapse to add into another movie its a bit annoying. The premium version does have some nice filters, but not as good as Instagram.
Main Features:
You can set any time interval
Set the focus, ISO, White Balance and then lock them
You can schedule frame capture
Onion skinning for stop motion
Import pre-recorded videos to speed them up or slow them down (but adds a watermark)
The upgrade Pro version costs £3.59 and gives you the following:
Capture in HD
Add Effects
Resume Capture
Add sound tracks
Import video without adding watermark
Add removal
Future updates
Featured on the English TV Show "The Gadget Show":
Here's a video explaining what time-lapse is and how to use this app: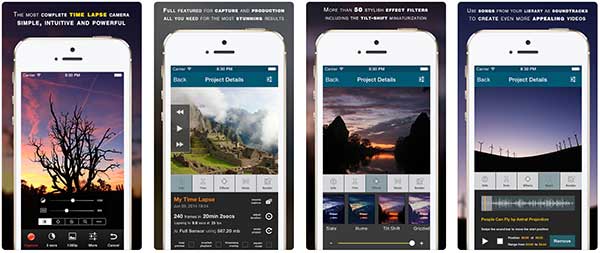 4 STOP MOTION APPS FOR APPLE ONLY
1. iMotion – free with In-App upgrades
Another outstanding free app, with lots of features that are normally only found on full versions. It's promoted as a time-lapse app, but its great for stop motion too. There are of course in app purchases to get additional functionality, but the free version is very good.
As well as the expected variable playback speed, onion skinning and basic editing you also get the following features:
4K UHD, 1080p & 720p HD capture & exports (4K UHD & 1080p are only available on recent devices)
4 capture modes (time-lapse, manual, wifi remote, photo library import)
Ultra speed shooting up to 10fps (10ps shooting are only available on recent devices)
Unlimited movie length
Retina Display

In-App purchases/Full Version:
Add audio soundtrack to your movie with iPod import, microphone and AudioPaste
Import multiple frames from your Photo Library
Export & import your movie project, using DropBox, Mail and iTunes Sharing Folder
Watch movies made with iMotion on their YouTube channel.




2. iStopMotion for iPad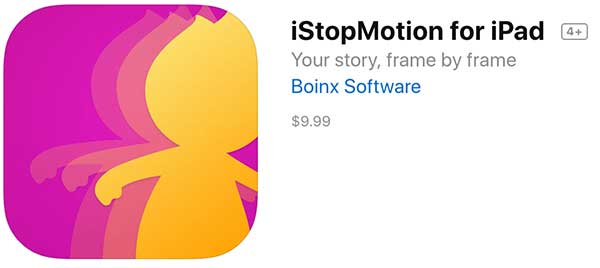 Boinx Software has a great reputation and this software gets great reviews, but for an app its on the more pricy side at $9.99, and its only for the iPad. That said its a good price for reliable software, and it does have some great features.
As well as onion skinning, variable playback speeds, the key features and benefits are:
Import or record audio – animate to a prerecorded sound track or add sound afterwards. A waveform view helps you recognise significant events in the sound track making it easy to match sound with the animation.
Remote Camera – Position your camera more conveniently and use the better optics of the iPhone with iStopMotion Remote Camera (download separately from the app store; supports iPhone 4 or newer, iPod touch 4th gen. or newer, iPad 2 or newer, iPad mini) – a free complementary app to iStopMotion for iPad!
Theatre – Be inspired by what other people create with iStopMotion or share your own masterpiece with the world.
See example films, join the forum and get tech support at boinx.com/istopmotion/ipad

Here is a nice video from Lynda.com on how to use the app, however he's not using the right tripod – I really don't like the way the iPad wobbles when he takes a shot! I'll cover that in 'How to Make stop Motion Animation'.
3. Mega Construx™ Stop Motion Builder – Free
This is the branded app for the Mega Construx™ construction toys. Stop Motion Builder is a simple and easy-to-use and has everything you need to create a short stop-motion movie, and its an extension activity for the construction toys. But anyone can download it and use it for stop motion. The main benefit are the number of editing tools, and having everything to hand to make a complete movie, it's a studio in your pocket! However the downsides are that you may not be able to make a video that is more than 300 frames long, and anything over 30 seconds may have trouble rendering.
As well as the basics (onion skin, basic editing, variable playback) here are the key features:
Movement guides to help you animate
Add music and sound effects
Visual filters, themes and unique titles and end credits
Tutorial to get you started
Share your movies on the Mega Construx™ website

4. Frameographer
Intuitive and uncluttered interface, but no freemium version, full version only at $4.99, and it requires iOS 8.0+.
Additional to basic editing, onion skin and variable playback are these features:
Capture and export in HD quality
Manual or Automatic shutter settings and Exposure and Focus lock
Low-light Boost Mode (iPhone 5(sc)/6/6 Plus only)
Add a soundtrack with any song from your iTunes library

2 STOP MOTION APPS FOR ANDROID ONLY
1. PicPac – free with In-App upgrades
Free app with in app purchases to unlock extra features, good for stop motion and time-lapse but you can also import videos shot elsewhere and speed them up, or select single frames from these shots with which to make your movie. They are adding a slideshow feature too. The free version outputs low quality videos with a watermark on them, so its probably worth upgrading. But one very cool feature is the ability to take frames with a sound, this is great if you are not near the camera when each frame is to be taken. They have some demo videos to show you the possibilities of the features, and they feature videos made using their app on their website.
As well as the basics the key features are:
Use your gallery photos, gallery videos (broken down to pictures), or capture time-lapse photos to create stop motion / time-lapse videos and animations.
Hands-free sound-controlled in Time-lapse Manual mode.
Record your own audio and add voice or music
Spanish, French, Portuguese and Russian support
Upgrading to Pro:
Remove watermark
Can generate 480p,720p,1080p videos/animations
Can duplicate and merge projects
Can add photos to existing projects
Can use your own ending logo
Here is an example of what you can make with selected frames of a range of movie clips:
2. Clayframes – Free Lite version and paid for Full version
There is a lite version which is free, and the full version is only £1.99. The interface is a bit outdated, but it has some really interesting features, and it doesn't take up too much space on your phone. Also like PicPac it also has a clap feature to trigger the shutter so you don't get blurred images if your phone moves whilst filming. Another really interesting feature is the alpha brush, to remove rigging. They recommend trying it first with the lite version to check your phone is compatible. Also it probably has more editing features than other stop motion apps, so I think its really good value, and has great features.
As well as the ubiquitous onion skin and variable playback, here are the main features:
Trigger camera shutter remotely using a hand clap, the phones proximity sensor or a bluetooth remote to avoid camera shake
Timed shutter release option for time-lapse movies
Add audio using the microphone on your device. Record your own vocals, effects or soundtrack
Import images
Draw over your photos
Alpha brush erases stands and rigging
Choice of image resolution; including HD
Compact app can be installed on SD card
See a demonstration here of the Alpha brush to remove rigging, however to get this to work well I would recommend shooting with controlled lighting conditions (in other words not in daylight):
Conclusion
If you have children go with one of the branded apps if they already like that brand or toy – Animate It! (Aardman) – Zing StikBot Studio (StickBot toys) – Mega Construx™ Stop Motion Builder (Mega Construx™ toys or lego, for some reason the Lego™ Movie Maker app no longer exists). Personally the StikBot Studio app is the best here.
If you have an android phone and you like to experiment a little then I'd recommend PicPac or/and Clayframes.
If you don't mind paying out then go for iStopMotion for iPad although I think Stop Motion Studio gives you more and its half the price, it can run on an iPad and an apple watch too.
If you primarily want to do time-lapse, and share it online then Lapse It is for you.
Best free apps – iMotion (apple), Stop Motion Studio (both), or StikBot Studio (both).
Here is a comparison table for the apps in this post. Remember they all have onion skinning (the ability to see a shadow of the previous image), have various editing capabilities, and sharing features. Also the prices do change over time, as do updates adding new functionality.
Comparison Table of Stop Motion Apps
| APP | HD output | Sound track | Green screen | Apple | Android | Cost |
| --- | --- | --- | --- | --- | --- | --- |
| Stop Motion Studio | ✓ | ✗ | ✗ | ✓ | ✓ | Free |
| Stop Motion Studio Full upgrade | ✓ | ✓ | ✓ | ✓ | ✓ | £4.99 |
| Lapse It | ✗ | ✓ | ✗ | ✓ | ✓ | Free |
| Lapse It Premium upgrade | ✓ | ✓ | ✗ | ✓ | ✓ | £3.59 |
| I Can Animate Lite | ✗ | ✗ | ✗ | ✓ | ✓ | Free |
| I Can Animate Full | ✓ | ✗ | ✗ | ✓ | ✓ | $2.99/£4.69 |
| Animate It! Lite | ✗ | ✗ | ✗ | ✓ | ✓ | Free |
| Animate It! Full | ✓ | ✗ | ✗ | ✓ | ✓ | $2.99 |
| StickBot Studio | ✓ | ✓ | ✓ | ✓ | ✓ | Free |
| iMotion | ✓ | ✗ | ✗ | ✓ | ✗ | Free |
| iMotion Upgrade | ✓ | ✓ | ✗ | ✓ | ✗ | $3.99 |
| iStop Motion for iPad | ✓ | ✓ | ✗ | ✓ | ✗ | $9.99 |
| Mega Construx™ Stop Motion Builder | ✓ | ✓ | ✗ | ✓ | ✗ | Free |
| Frameographer | ✓ | ✓ | ✗ | ✓ | ✗ | $4.99 |
| PicPac | ✗ | ✓ | ✗ | ✗ | ✓ | Free |
| PicPac Upgrade | ✓ | ✓ | ✗ | ✗ | ✓ | £2.19 to £4.29 per item |
| Clayframes | ✗ | ✓ | ✗ | ✗ | ✓ | Free |
| Clayframes Full | ✓ | ✓ | ✗ | ✗ | ✓ | £1.99 |
Well I hope that helps you to chose. Another thing is that apps do come and go, new ones will be coming out and others will be withdrawn. So download one, have fun, and keep a look out for new apps that may do even more in the future.
Oh, and leave a comment bellow to let us know what stop motion app you enjoy using!