Who thought stick figure animation was dead? With all the capability and software out there, guess what, stick figure animation is really cool. Especially with 10 year old boys! It's really popular with boys, and it's all about stick men fighting. It's really quick for them to make, which is a huge plus, and it's all about action, another plus. My son picked it up straight away, no training needed. He loves it and its a great outlet for life's frustrations. So what is the best stick figure animation software, and is there a great free stick figure animator out there for you to try today? Absolutely.
At the moment we are using Pivot and we've also tried Stickman & Elemento. Pivot is the best to get started really quickly with no learning curve at all, my son was animating as soon as we opened the programme. Stickman & Elemento however, needs a bit of learning first, it was frustrating at the start, but it has lots of promise and lots of potential.
Remember free software is often made by a programming enthusiast and they are not always able to make it user friendly as thats a completely different skill.
If you really get into it, here is a little blog on the history of stick figure animation from Know Your Meme.
By the way, none of these are affiliate links, I don't benefit from telling you about them, I'm just offering you the fruits of my own research. Just in case you wanted to know!
Cutout Pro, Stickman & Elemento
The promotional site Cutout Pro
The information Wiki site
OS:  Windows
I'm putting this one first because there is just so much potential in this software package. Stickman is the animation software and Elemento is the figure editor. Together they make up Cutout Pro, because you can basically make cut out animation on your windows PC. The two come together, so when you open Stickman, each time you choose 'create figure' Elemento will open for you to make your character. You can then save these figures and import them into Stickman, there is also an online library of stick figures that you can import and use in your project, these are called up from within the software. This is a great piece of software, as it is good for more than just animating stick figures. So it's easy to use, and you can start of making stick men fight each other all day, but you can then progress to more creative and involved characters, adding sound, editing and so on. It also has basic expressions, so it's great introduction to programming too.
This is an amazing film made with Stickman, so you can see the potential here:
Although the current version 5.6 does cost, its only $10 USD. However there is a free version, the Alpha version of 5.7. It seems to have been developed from about 2002 by Sven Nilsen, the last update was in 2013 where it has reached V5.7.026.
This isn't promoted much and seems to be aimed at primary schools, and I believe it is installed in many. In the UK Animation is now on the curriculum in year 5, so this may be one of the things they do then.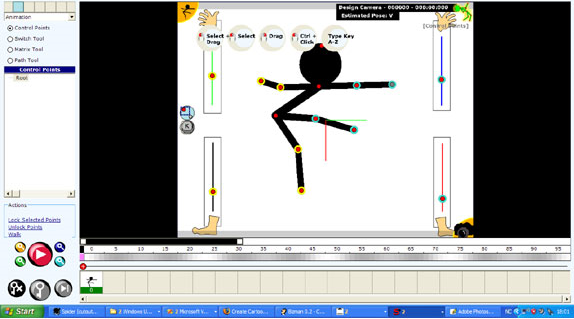 Key features from the website:
Import PNG, JPEG, GIF, PSD (Photoshop)
Animate in Photoshop or GIMP
Create line drawings on infinite canvas
Animate with key frames, control points, switches, matrix
3D-like interpolation of size
Path tool
Pick up and drop items
Control body poses, switches with keyboard
Generate walk
Create your own figures
Unlimited undo and redo
GDI+, AntiGrain rendering with OpenGL acceleration
Deform and effect nodes
Slide physics for "line rider" like simulation
Pivot Stickfigure 2.2.5 integration
Speech bubbles
Unlimited cameras and animation length
Expressions
Many features for reusing graphics between projects
Sound with animated triggering, volume and pan
Record sound util
Export to 9 popular video formats
Export to Flash
Snapshot a frame, export frames as PNG sequence
Stop motion, capture video of desktop or webcam util
Put video clips together
There is a YouTube Channel for the training here. The main YouTube channel is here, and has a range of interesting videos.
PROs
It does a lot, has lots of potential. Its free, or very cheap. Lovely colour picker system!
CONs
You will benefit from watching the tutorials and spending just a little time figuring out what to do.
Download STICKMAN & ELEMENTO here.
Pivot Animator

OS:  Windows
Free for personal and commercial use. The business model creates revenue from adware in the software installer, which you can remove or opt out of, and revenue from YouTube ads, but this is what keeps the software free to use for everyone. It really is easy and fun to use, here is a 'how to' video we made.
This is possibly the most well known and popular stick figure animation software of its time. The software was made by Peter Bone for his brother who needed something very user friendly and simple to use, that was back in 2004, now it is widely used and available in several different languages, the latest release was V4 in 2016. The idea behind it was to make stick figures that could be animated easily simply by dragging their limbs and joints into different positions, and the proportions would stay the same because each limb is jointed with a pivot. Just like a cardboard cut-out figure joined with paper fasteners.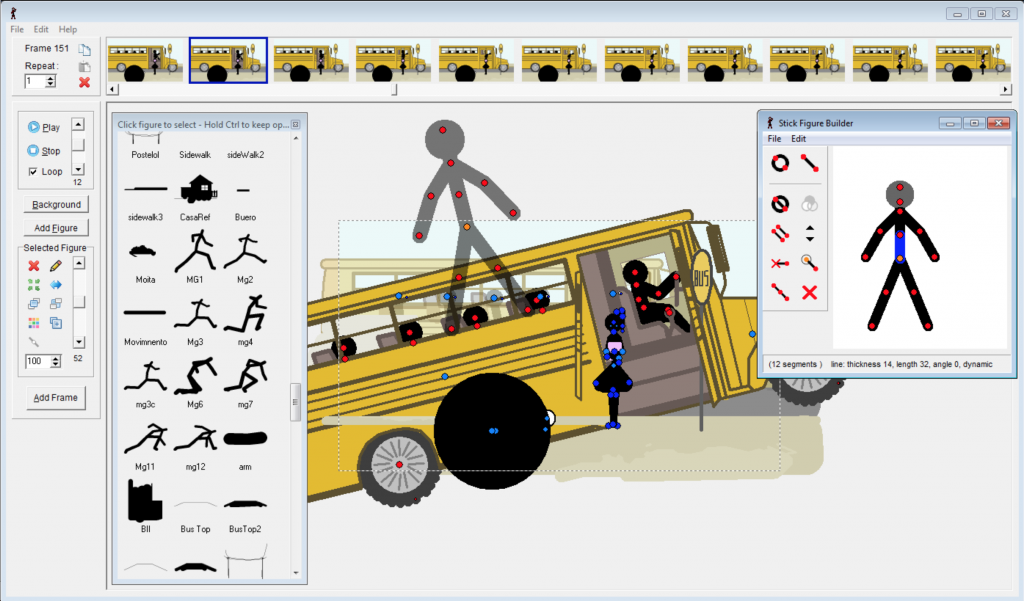 Here are the Key features:
Easy to make animation
Create simple figures
Load your own backgrounds including bitmap images
Position your figures with easy to use handles
Frame by frame animation and keyframes
Create cycled movie clips and give them motion in the scene
Export animated gifs, sequence of images or avi videos for YouTube
Help and user forums
Tutorials are provided by Pivot users and fans on YouTube and there is full user help on the website
Here is a video showing the New Features of Pivot 4.2
As well as how to's on YouTube there are also useful series of Watch Me Animate by Pivot fans, which give you a great insight into what is involved in creating animations with this software, heres one of a great series:
PROs
Very simple to use, focused on doing one thing very well and very simply. You can start without any kind of tutorial. It comes with some predesigned characters and you can download more characters from Droidz that other people have made and animate them, but it's also super easy to make your own figures.
CONs
The software does not support sound, so you have to import your animation to another package to do that. This is not really a bad thing anyway, because this keeps the software simple and easy to use. Each stick figure can only be one colour, but the benefit of this is that you don't have to worry which parts of the figure are in front or behind, so it makes animating simpler. Character editing and creation is done in a separate window so it's hard to see how it fits in your scene, but now in Version 4 this window has a transparency setting so this is not really a problem anymore. Oh, and it's not available for Mac.
Download PIVOT here and give it a try!
Dimp Animator
A mac version of Pivot was made and was released for preview at the end of 2008 by Sijmen Mulder. But as far as I can see it was never released. But then Stykz came out and filled that gap in the market. Here is Dimp's old blogspot.
Here is a little video of it being used on YouTube.
Stykz
OS: Mac, Windows, Linux
Originally designed as a subset of pivot it's the first multi-platform stick figure animation program, and its free for all uses. It was started in 2008, by Ken Ray in response to his children using Pivot and being frustrated at its shortcomings. So far it's at version 1.0.2 stage. At the moment you can donate to them, but the business model may be to sell upgraded versions of the software, but always have a freemium version to start with.
There are many similarities between Pivot and Stykz: they both support frame based animation, both use key frames, use the Enter key to create new frames whilst dragging an object, undo, create and edit figures, static and hidden segments, scale and rotate figures, drag nodes, the list does actually go on a fair bit. But the key differences are that Stykz lets you do more to segments of a character, it can be used on a mac and exports .mov. A full comparison is here, although it's with Pivot V3 not V4, you get the picture. But these differences can make Stykz a little more tricky to use, as it gives you more options to learn about.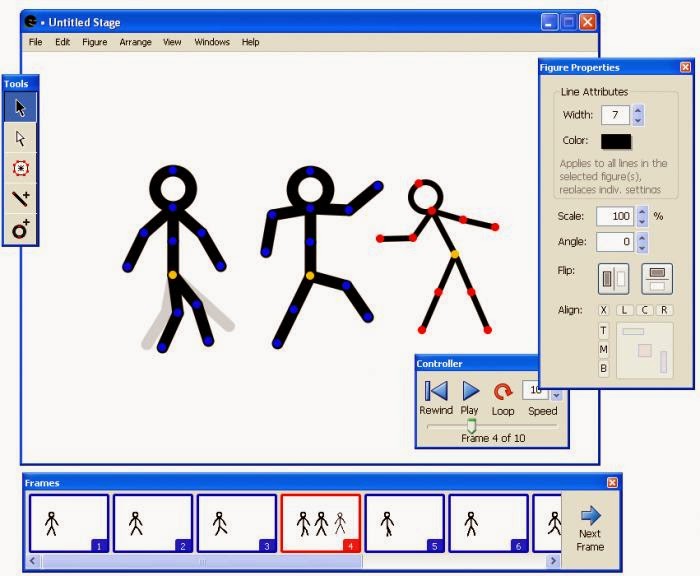 Here is a list of features:
Frame based animation
Both static and pivoting nodes
Stretch and distort a segment during a scene
Add and remove nodes from a segment during a scene
Create and edit characters directly on the stage
Comes with predefined figures that can be used as a starting point
Create filled regions with the PollyFill tool
Export animated gif, image sequence, transparent PNGs sequence, .mov for YouTube
Full help documentation and Tutorials on the website, forums and community support
There is also a Windows tool to allow you to convert your Pivot files to be used in Stykz
What's really interesting to note is what Stykz has on the list for future versions. Here is a sample of what they are working towards: Sound effects and background sound; Transitions and visual effects; Sprites (imported images); Inbetweening; Draw objects (polygons, ovals, arrows, etc.), Text boxes and word balloons; Drag-reordering of frames; Grouping of frames into "clips"; Automatic uploading/downloading of .styk files to/from the Forum (or other sharing area for Stykz files). So you can see it has big plans and is planning to go somewhere, however the last update was in 2011.
PROs
Multiplatform software, better than the earlier versions of Pivot, easy to use, easy to animate.
CONs
No sound yet, but planning to add it at a later date. No background images, doesn't support bitmap, but you could create simple backgrounds with shapes.
TISFAT (This is Stick Figure Animation Theater)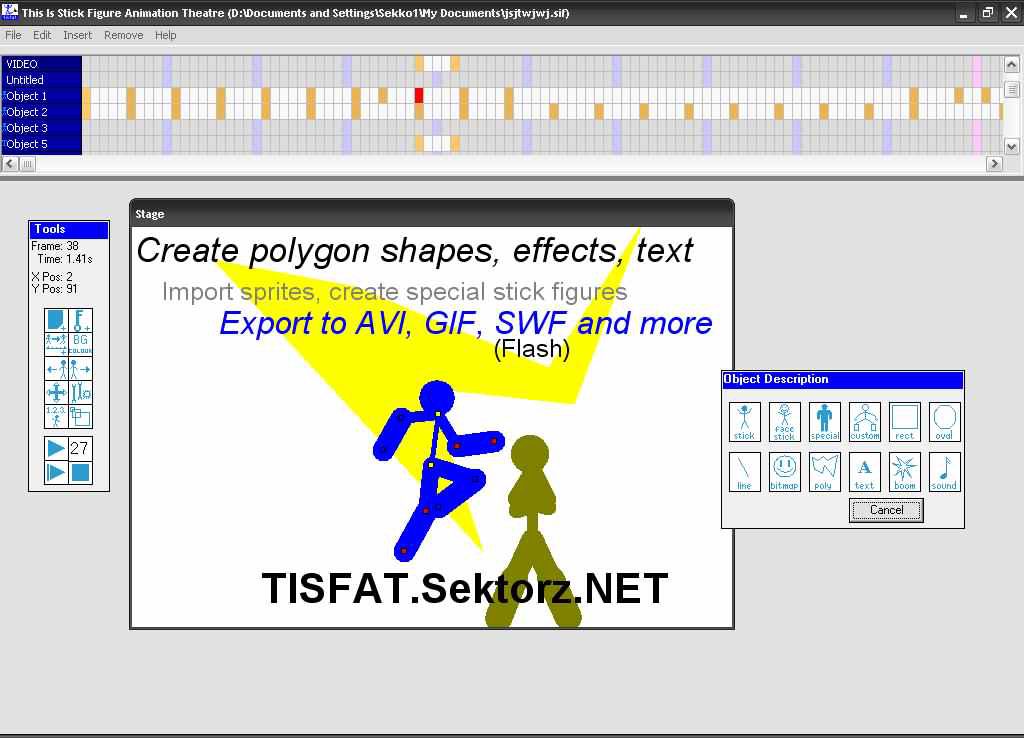 OS:  Windows
TISFAT is like Pivot, but speeds up the process because you can place keyframes along the timeline and the tweens will be created for you. It seems to have more features and the timeline looks like Flash. It looks and sounds great.
However this software does not have its own website, and as far as I can see is no longer supported, I really can't find much about it online, just abandoned websites from around 2012. I can't find when it was made or who by. So I can only assume that it is no longer around, although you can still find downloads for it.
The most recent review on YouTube doesn't get us that much closer to a reliable download.
Key features are here:
Drawing primitives (lines, rectangles, bitmaps, polygons, text)
Simple ready-to-use stick figures
The ability to create any custom stick figure, with as many limbs as you choose
Attaching bitmaps to limbs
Drawing stick figures as curves
Create-A-Scene, enabling creating animation through physics
Edit and run-time onion skinning
Tracing of a video background
Setting alpha values of every element
Rotation of most elements
Export to popular formats (Animated GIF, AVI, Flash)
Here is a YouTube video tutorial showing you the use of TISFAT
You can see from the screenshots of TISFAT here how similar the timeline is to Flash.
Stick Nodes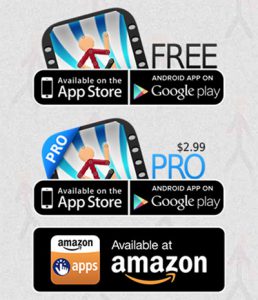 Phone App
Download from Google Play 
Download from Apple App Store
Stick Nodes is a simple and robust stickfigure animation program for android and apple mobile devices. You can create animated GIFs and MP4s by animating stickfigures right on your tablet or phone. There is a free version of the app which has ads and a watermark, but the Pro version is only $2.99. The developer, Ralph Damiano, started off as a keen Pivot user and built Stick Nodes in 2014.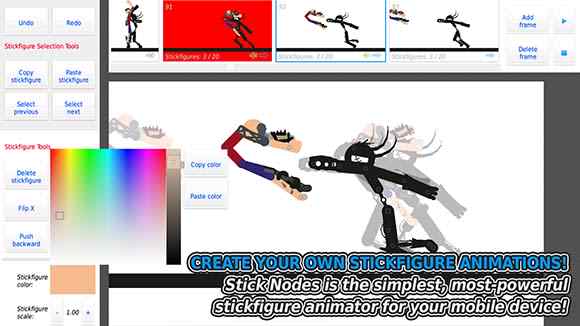 The key features include:
Automatic frame-tweening, to make your animations smoother
Add sound effects to the frames of your animations, (PRO version only)
A virtual camera to move and zoom, make your animations cinematic
Filters such as blur, saturation, inversion, glow and tint (PRO version only)
Variety of shapes, color/scale on a per-segment basis
Gradient colors, too to make your stickfigures look realistic or cartoony
Textfields make it easy to add text and dialog to your animations
Ability to create, save, import, and share stickfigures you create
Thousands of awesome stickfigures available on the website for free
Compatibility with Pivot-created STK files (version 2.2.7 and earlier)
Clean, mobile-inspired interface – pinch-to-zoom for ease and convenience
Forward and backward onion-skinning for precise animating
An undo/redo system, don't worry about fat-finger mistakes
Export to GIF (free version) or MP4 (PRO version only) for your Youtube channel!
Stick Nodes community
PROs
Very immediate to use and fun. Best used on a tablet.
CONs
Annoying to use on a phone. My son's assessment "great for me, annoying for my fingers, I'd prefer to do this on a laptop".
Draw A Stickman

Well this is not animation software by any stretch, but because this blog is for kids, I thought that if the older kids are making stuff on Pivot or Stickman, then the really little ones can get to see their own stickman come to life with this, so they feel included too, and at not extra effort to you.
Draw a Stickman – Find the web game here. You can literally draw a stickman and see them become part of a story. Great for younger kids, where they will get to see their little stickman drawing start to move on its own without any effort on their part. The magic begins!
Epic 2 – Now available on the Nintendo Switch and Wii – draw a stickman and guide it through an epic stickman adventure. Find it here.
I think from this list you can find the best stick figure animation software for you. There is a great free stick figure animator out there for everyone, even if you are not supposed to be a kid anymore!
Please post a link to your stick figure animations on YouTube in the comments below!
And if you hear of any other free stick figure animation software, tell us about it in the comments.
Thank you for reading, and I hope you give one a try.