Here you will find collectable items from Will Vinton. He was one of the animation pioneers, popularising 'claymation'. Sadly there is not much available at the moment. DVD's of Rip Van Winkle and Martin the Cobler, were released but seem to be no longer available. However there is a release of The Adventures of Mark Twain, his first feature film, and also his first comic Jack Hightower. Read my article on Will Vinton to find out more about him and his work.
DVD: The Adventures of Mark Twain (1985) [Blu-ray]
The Adventures of Mark Twain [OFFICIAL TRAILER]
Mark Twain is in the paddlewheel zeppelin to meet his destiny with Haley's Comet. Tom Sawyer, Huck Finn and Becky Thatcher are with him, and treated to some of his greatest stories with the "index-o-vator" taking them from tale to tale. Meanwhile the bard grapples with the questions of life, love, death, the afterlife.
The first vignette from Twain's works is The Celebrated Jumping Frog of Calavaras County, offers a light-hearted start to the tales to follow. Later in the Diary of Adam and Eve he satirizes the start of the battle of the sexes, and affirms the meaning of love in our lives. In The Mysterious Stranger we see Twain's representation of Satan dubbed 'the creepiest film on YouTube, receiving over 10 million views and allegedly banned from TV due to its 'disturbing content' (which according to Will was not true). Other tales touched on are The Adventures of Tom Sawyer, Huckleberry Finn, Captain Stormfield s Visit to Heaven, and The Damned Human Race.
The Adventures of Mark Twain was the only full length feature film directed by Will Vinton, and is a showcase of his Claymation technique. The models move in a beautifully fluid and expressive way. With Joan Gratz's paint and clay mix creating the background animation for billowing clouds and stormy skies.
A meaningful film with a plot to appeal to all ages makes it a one of a kind creations that is a must for all animation collectors.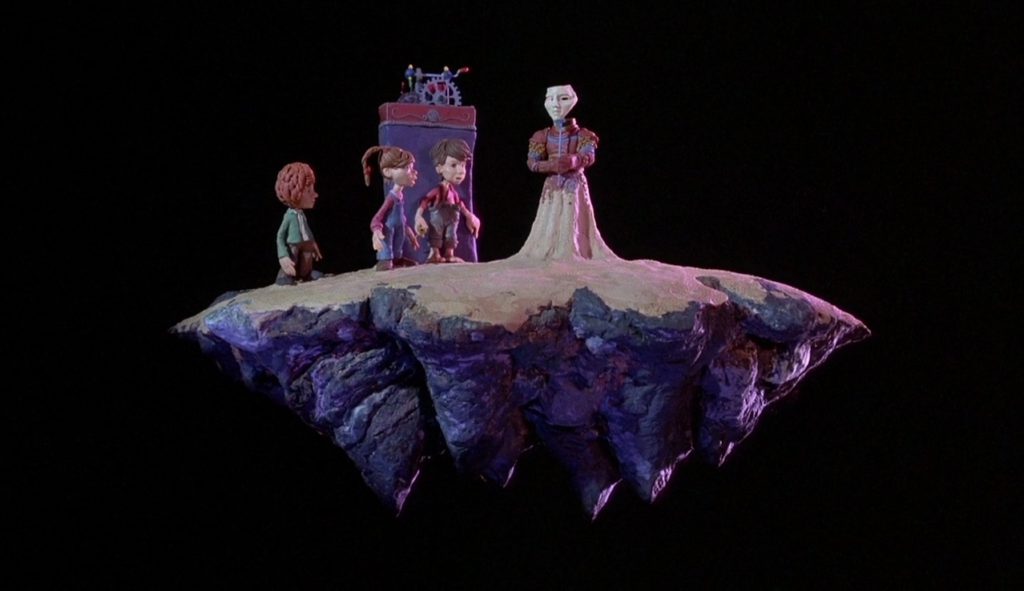 In an interview with Will Vinton in 2013 which you can read in full at AWN the film was shot in a converted house with a full time crew of 17, plus freelancers, took four years to make and had a budget of $1.5 million. Will Vinton remembers those times:
"You know, it was really fun.  The crew was small, but every one of those people either continued on with me or went on to do really wonderful things, like Craig Bartlett who created Hey Arnold! and Dinosaur Train.  It was just a dynamite time."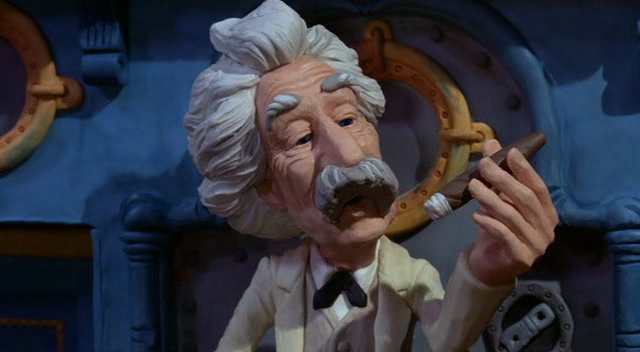 Everything in the film is made with clay, his rational was thus:
"I was a complete purist about the idea that everything in Mark Twain be made of clay.  That came from seeing a lot of puppet animation in the past, Eastern European and Asian and so on, where the materials got in the way of the story, because you'd be watching it and getting into it and then all of a sudden you'd see the clothing is clearly a cheap piece of burlap, or you'd see corrugated cardboard at the edge of the set.  It blows the scale and takes you out of the story.  So my rationale was to let everything be clay so that you never run into that.  I've softened my purist quality since then (laughs), but I do think that it gives the film a rare appeal and particularly interesting quality, especially dealing with things like water and clouds…"
The DVD can be purchased here:
DVD Extras:
Commentary and interviews by Producer/Director Will Vinton and members of the cast and crew
The History of Claymation, a 25 minute doc, the origins of stop-motion, Claymation and 3D animation
The Amazing World of Claymation Tour of the popular exhibit hosted by Will Vinton
Behind the Scenes Video Clips and video news stories from …Mark Twain s initial release
The Art of …Mark Twain – a gallery of original concept art of characters and sets in pencil and paint
Trailer
<<The Adventures of Mark Twain best prices on Amazon >>
(As an Amazon Associate I earn from qualifying purchases.)
Comic: Jack High Tower (2007)
His first comic, spanning 150 pages, taking place in Miami. Sold by Dark Horse.
Jack Hightower has it all. Women, money and power. Until Dr. Flagitious Savant lures him into the shrink ray turning him into the worlds first living action figure.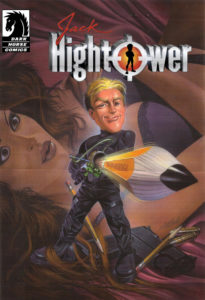 Vinton talks about the process of making a graphic novel, as opposed to animation:
"In some ways creating this character was very similar to creating a character for animation-it's like storyboarding a film. But with a graphic novel you have whittle it down to the essence of character and story-you have to be more spare and make everything count-then make that really vivid."
I wonder if its autobiographical in a metaphorical sense.
<<Jack Hightower best prices on Amazon >>
(As an Amazon Associate I earn from qualifying purchases.)
Articles and Publications
By VINTON:
Banc-Titre(Paris), June 1980.
American Cinematographer(Hollywood), November 1985.
On VINTON:
Cinefantastique(New York), Winter 1980.
Funnyworld, Spring 1983.
Banc-Titre (Paris), September 1983.
American Cinematographer(Hollywood), May 1985.
CinémAction(Conde-sur-Noireau), no. 51, April 1989.
Cinefantastique(New York), vol. 27, no. 7, 1996.
Please leave your comments below, especially if you know of any more items  for sale from Will Vinton. Thank you.