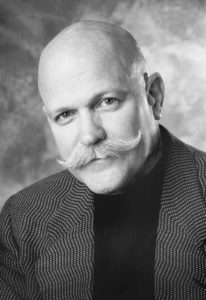 Born: November 17, 1947 in McMinnville, Oregon, USA
Died: October 4, 2018 (age 70) in Portland, Oregon, USA
Will Vinton brought clay animation to the world by revitalizing and revolutionizing it. He was the father of what he called 'Claymation' (which he trademarked in 1978), winning an Oscar and 2 Emmy's and building his Vinton Studios into a $28-million-a-year enterprise, before seeming to lose it all to business tycoons who had nothing to do with film or animation. How did this happen, and what is Will Vinton's legacy to the world?
The story of Will Vinton, is one that echoes the story of animation over the last 50 years. From independent short films exploring new techniques and new ground in the 70's, through to breaking new ground in animated commercials in the 80's then TV series in the 90's, and finally that success attracting the echelons of big business, with their habits of relentless acquisition of smaller enterprises, in order to deliver some quite spectacular feature films. Animation has grown from a small number of experimenting creatives to big business. But what about the characters who started it all, the people who prepared the ground and built an industry? How will we remember them?
<<Find the Will Vinton collectable DVD and comic here>>
Two friends exploring the potential of clay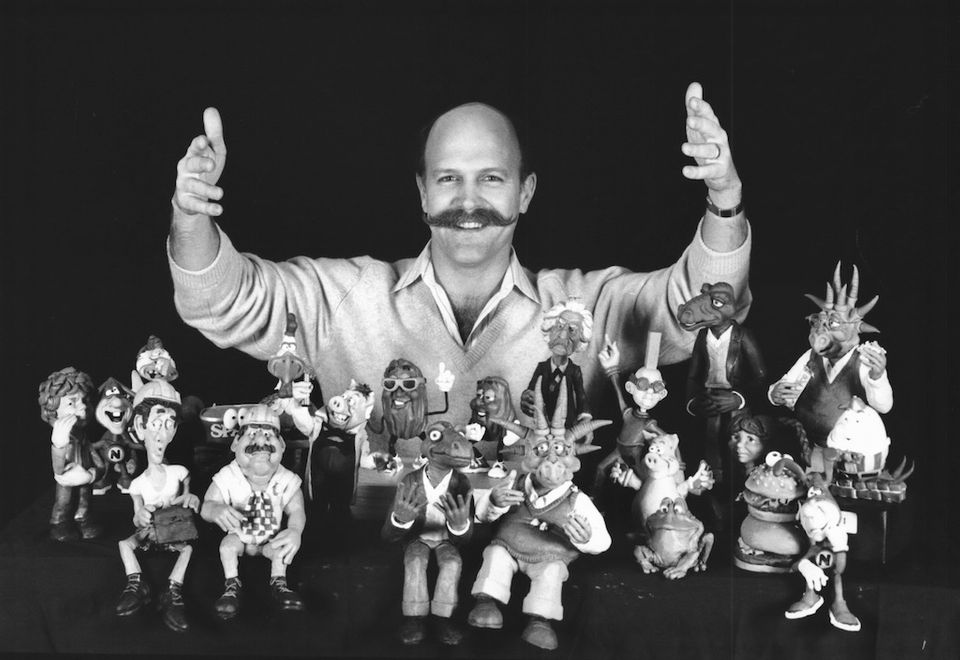 It started in 1973 when Will and his friend, Bob Gardiner, got together to start looking at the potential of clay for animation in the basement of Will's house, Oregon. They had actually made a film with clay already, a few years before, while Will was at The University of California at Berkeley, and Bob was one of his housemates. This was Culture Shock, which won them an award at Berkeley Film Festival. Although Will was studying architecture, he was encouraged by his father, an amateur filmmaker himself, to go into film making. After graduating he spent a few years working on short films and documentaries, before starting this new project with Bob, one that would change their lives forever.
This new experiment became the short film Closed Mondays, took them a year and a half to make, and eventually won them an Oscar in 1975. In this film we can already see great character and story with a nice twist at the end. Interestingly the first time they tried to show the film, at a local festival in Portland, it was rejected. Not willing to give up he showed it to a friend, who owned a theatre, who as a favour screened it before the feature. The audience loved it, so they started sending it to festivals. From there it won awards throughout the festival world, including Cannes, before its nomination for the Academy Award for Best Animated Short.
A career is launched
At the age of 26, Will Vinton now had the credibility to land himself some commercials and more short films. He and Bob went their separate ways after the next short film Mountain Music in 1976, and he found a new collaborator, Joan Gratz. She worked with him on some of the best films from the studio. His short films show a taste for experimentation and unrestrained fantasy, and at the start he made mostly short films.
These films won many awards, and the commercials too made it possible to start employing staff, the studio was taking shape as a large craftsman's shop. He liked the freedom of being an independent filmmaker and saw the studio as an extended family. By the end of the 1980's the firm had won three Emmy's, had been nominated for four Academy Awards, and he had produced his first feature film The Adventures of Mark Twain (1985). Praised as 'immensely imaginative' by variety, with refined movement and self-assured performance, Bendazzi suggests its probably his finest work (especially The Diary of Adam and Eve)
The studio had worked with some big names, such as Disney (their first outsourced job), Michael Jackson and Bruce Willis. But perhaps the most famous commercial was the California Raisins singing Marvin Gaye's "I Heard It Through the Grapevine" in 1986.
This led to another expansion in the company, bringing Will more and more into a business role. He was the companies creative lead, president and chairman, working in multiple markets; commercial, television, feature, shorts, music video, interactive, merchandising and licencing. His prime-time comedy shows for CBS Network receiving prime-time Emmy's and nominations.
A time to innovate
Even from the start the studio made its own clay product to animate with, to get the colour and ductility needed. Joan Gratz was mixing clay with oil paint and animating it on a glass plane. He wanted to push the medium of clay and its possibilities.
In the 1990's the studio built a CGI division and began combining clay animation with this new technology. This led to the very successful run of M&M's commercials.
But this wasn't the only innovation they were working on. TV series for Eddie Murphy called the PJ's and soon after Gary and Mike, for UPN, were also in development and required another approach to clay animation, this time something he called 'Foamation'. This was ball and socket joint armatures covered with foam latex. This created the sturdier characters needed for the longer production lengths.
A new era begins, and ends
These two series also required the company to grow again, now to 400 employees. But even with a turn-over of $28 million a year, outside investment was needed, and Nike co-founder Phil Knight ended up investing $5 million for a 15% share, and an internship for his son Travis Knight. Travis had had an unsuccessful career as a rapper and was looking for something to be successful at, and in just a few years become one of the best animators in the business.
However things were about to take a turn for the worst. The PJ's show was discontinued, Gary and Mike was cancelled, the advertising industry took a blow, and the company made some bad investments. The company had to dramatically reduce in size, but it had become mismanaged and needed yet more investment. Phil Knight put in more money, but this time for full ownership of the company, and a position on the board for his son Travis.
Just six months later Will Vinton resigned, devastated, with only a $125,000 severance package when just two years earlier his shares were worth $2 million. But what's more, Will's life-long body of work and the trademarks stayed with the company, now belonging to Phil Knight.
For the failing company this was a much needed rescue, as Phil invested a further $180 million into the company, turning it around. Vinton sought damages and sued for his name, and the company was rebranded as – Laika. Soon it released Coraline (2009), then Paranorman (2012), Boxtrolls, and Kubo and The Two Strings.
Vinton starts again
Will Vinton, never one to be beaten, started a new company, 'Freewill Entertainment' a boutique animation and licensing studio. Free from the pressures of big business, he started developing some new films, a comic (Jack Hightower), teaching, and trying a Kickstarter campaign, which unfortunately didn't come to fruition.
Not long after he started a 12 year battle with Multiple Myeloma, and still working on creative projects.
The Will Vinton Legacy
Will Vinton brought clay animation back to life and made stop motion clay and puppet animation a viable contender to drawn animation, which was at the time the main form of animation especially in the commercial sector.
He helped to build a big bucks industry, animation was no longer just an interesting art form, it was everywhere, in advertising, music video, TV… evolving in innovative ways.
Portland is now on the animation map as one of the key places for stop motion animation.
The animation studio mix of short films and commercials is a favourite of many companies as a way of creating opportunities for creative development and innovation, encouraging the feel of a creative hub, rather than a factory.
You can buy a DVD of his feature film The Adventures of Mark Twain, and his comic Jack Hightower.
His children's statement after his passing is an insight into his character:
"Will was the strongest man we have ever known, both in his work ethic and his mental resolve. He always said, "Do good work and everything else will follow," and he never gave up on the things that were important to him. He saw the world as an imaginative playground full of fantasy, joy, and character. He instilled in us the greatest values of creativity, strength, and pride in ones own work. He created stories and characters filled with laughter, music, and powerful lessons that are globally beloved. He brightened any room with his signature mustache, and he continued to make jokes and laugh until the very end. His work will live on in animation history and will continue to inspire creative thinkers and makers." (excerpt)
Documentaries on Will Vinton
Vinton is the subject of the 2019 documentary "Welcome to My Daydream." Trailer:
The 1978 documentary on the early days of Will Vinton Productions can be seen here:
Part 1:
Part 2:
Contributors to this post:
Giannalberto Bendazzi (2016) "Animation: A World History, Volume 2", CRC Press
How the Father of Claymation Lost His Company – Zachary Crockett
Will Vinton, obituary by Erin Nyren